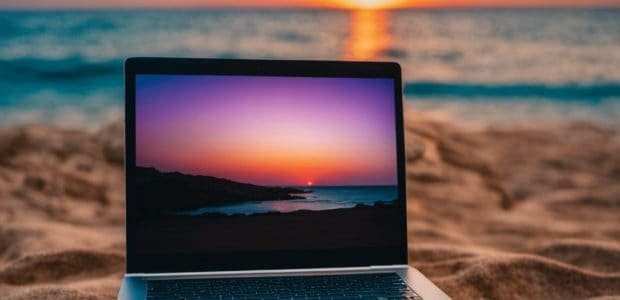 Contrary to traditional banking, Revolut emerges as the ideal online bank for Cyprus. With its user-friendly mobile and desktop apps, automatic spending categorization, and travel insurance, Revolut offers a convenient and efficient banking experience.
However, it falls short in areas such as domestic fees and user protection. Despite these drawbacks, Revolut stands out with features like Apple Pay and Google Pay, spending insights, and real-time transaction notifications.
With its solid mobile banking application and additional features, Revolut is a top choice for those seeking an online banking option in Cyprus.
The Benefits of Using Revolut in Cyprus
Users in Cyprus can benefit from using Revolut as it offers features like Apple Pay and Google Pay for easy payments, spending insights for better financial management, and real-time transaction notifications to stay updated.
Revolut's mobile banking app provides convenience and efficiency for users in Cyprus. With Apple Pay and Google Pay integration, users can make quick and secure payments with their mobile devices.
The spending insights feature helps users track their expenses and manage their finances more effectively. Real-time transaction notifications ensure that users are always aware of their financial activities.
In addition to these features, Revolut also offers excellent customer support and assistance in Cyprus. Users can rely on Revolut's support team to resolve any issues or provide guidance whenever needed.
Overall, Revolut's mobile banking app provides numerous benefits and support for users in Cyprus.
Revolut's Impressive Mobile and Desktop Apps
Offering a seamless user experience, Revolut's mobile and desktop apps impress with their intuitive interface and range of convenient features. Users can easily navigate through the app to access various banking services and perform transactions with ease. The app provides real-time transaction notifications, giving users immediate updates on their financial activities. Revolut also offers a range of security features to protect user information and transactions, including two-factor authentication and biometric login options. Additionally, Revolut's customer support is highly regarded, with a responsive team available to assist users with any inquiries or issues they may encounter. Overall, Revolut's mobile and desktop apps provide a user-friendly and secure banking experience for customers.
| Features | Benefits |
| --- | --- |
| Intuitive interface | Easy navigation and usability |
| Real-time updates | Immediate transaction notifications |
| Security features | Protection of user information |
| Responsive support | Assistance with inquiries or issues |
Travel Insurance and Other Extra Features Offered by Revolut
With a range of extra features, including travel insurance, Revolut provides added value to its customers.
For frequent travelers, Revolut offers a comprehensive travel insurance package that covers medical expenses, trip cancellation, and lost baggage. This can give travelers peace of mind knowing that they are protected against unforeseen circumstances.
In addition to travel insurance, Revolut also offers other features that are beneficial for frequent travelers. These include airport lounges access, free global ATM withdrawals, and exclusive travel offers.
These additional features cater to the needs of travelers and make their banking experience more convenient and rewarding.
With Revolut's focus on providing a seamless and user-friendly mobile banking application, customers can easily manage their finances while enjoying the benefits of travel insurance and other extra features.
Understanding Revolut's Domestic Fees
The domestic fees of the popular online banking service in Cyprus are determined by factors such as withdrawal allowances and charges for additional cards. When it comes to Revolut's fee structure in Cyprus, it is essential to compare it with other online banks in the country.
Here are some key points to consider:
Revolut offers different withdrawal allowances per plan, ranging from €200 to €800 per month.
After surpassing the allowance, a 2% fee applies to each extra withdrawal.
The first card is free, but additional cards come with charges.
When comparing Revolut's domestic fees to other online banks in Cyprus, it is crucial to consider factors such as withdrawal limits, fees for extra withdrawals, and charges for additional cards.
This analysis will help individuals make an informed decision based on their financial needs and usage patterns.
Navigating Revolut's International Fees
Navigating international fees with this popular online banking service requires understanding the charges for foreign ATM withdrawals and transactions in special currencies.
Revolut charges a 1% fee on foreign ATM withdrawals made during weekends and a 1% fee for foreign ATM withdrawals in special currencies. However, Revolut doesn't charge fees for transactions in foreign currencies due to its ability to hold multiple currencies. This is a convenient feature for those who frequently travel or make transactions in different currencies.
When using Revolut for international banking, customers can also take comfort in knowing that the platform has strong security measures in place to protect their personal and financial information. Additionally, Revolut provides customer support availability to assist users with any questions or concerns they may have regarding their international transactions.
Enhancing Everyday Usage With Revolut
In the previous subtopic, we discussed the international fees associated with using Revolut. Now, let's explore how Revolut enhances everyday usage for its users in Cyprus.
Revolut offers a range of features and tools that make managing finances easier and more convenient. Here are some key highlights:
Spending Insights: Revolut provides users with detailed insights into their spending habits, allowing them to track and analyze their expenses effectively.

Transaction Categorization: The bank automatically categorizes transactions, making it effortless for users to understand where their money is going.

Cash Deposit Limitations: One limitation of Revolut is the inability to deposit cash into the bank account. This may be a drawback for those who rely heavily on cash transactions.
Overall, Revolut's spending insights and transaction categorization features greatly contribute to better financial management for its users in Cyprus. However, it's important to consider the cash deposit limitations when deciding if Revolut is the right online bank for you.
Revolut's Interface and Usability: A User-Friendly Experience
Users in Cyprus find Revolut's interface and usability to be intuitive and efficient, providing a user-friendly experience. The mobile app, in particular, has received high ratings for its user experience.
Signing up for Revolut is a quick and straightforward process, taking less than 10 minutes. The app offers a range of features that make banking convenient for users.
However, there are some drawbacks to Revolut's interface. Some users have reported difficulties in navigating certain features and finding specific information in the app. Additionally, while Revolut offers excellent customer support capabilities, there have been instances where users have experienced delays in receiving assistance.
Despite these drawbacks, Revolut's overall interface and usability score remains high, making it a popular choice among online banking options in Cyprus.