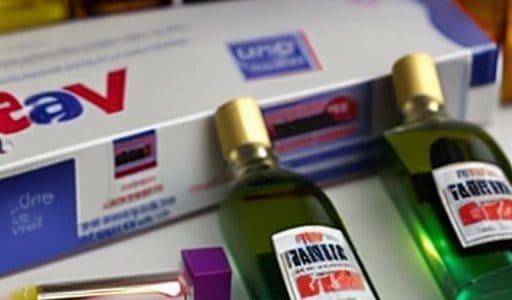 Title: How to Spot Fake Perfume on eBay: A Comprehensive Guide
Introduction:
Welcome to our informative article on how to spot fake perfumes when purchasing from eBay. With the rise of online shopping, it has become increasingly important to be able to distinguish between genuine and counterfeit products. In this guide, we will equip you with the knowledge and tools necessary to make informed decisions and avoid falling victim to counterfeit perfumes on eBay.
1. The Growing Concern of Counterfeit Perfumes:
Counterfeit products, including perfumes, have become a significant issue in the online marketplace. eBay, being one of the largest online platforms, is not immune to the presence of fake perfumes. The allure of discounted prices and the convenience of online shopping make it an attractive platform for both buyers and sellers. However, it also opens the door for unscrupulous individuals to sell counterfeit goods, including perfumes.
2. The Risks of Purchasing Fake Perfumes:
Buying counterfeit perfumes not only results in financial loss but also poses potential health risks. Fake perfumes often contain harmful ingredients that can cause skin irritations, allergies, or even more serious health complications. Additionally, the quality and longevity of counterfeit perfumes are significantly inferior to genuine products, leading to a disappointing experience for buyers.
3. Research and Knowledge:
Before making any purchase on eBay, it is crucial to conduct thorough research and educate yourself about the perfume brand you are interested in. Familiarize yourself with the packaging, bottle design, and any unique features or identifiers that distinguish the genuine product.
4. Seller Reputation and Authenticity:
One of the key factors in spotting fake perfumes on eBay is evaluating the reputation and authenticity of the seller. Check the seller's feedback ratings, reviews, and history of selling perfumes. Reputable sellers often have a track record of selling genuine products and have positive feedback from previous buyers.
5. Price Discrepancies:
If a deal seems too good to be true, it probably is. Counterfeit perfumes are often sold at significantly lower prices compared to their genuine counterparts. Be cautious of sellers offering heavily discounted prices, as this can be a red flag indicating the presence of fake perfumes.
6. Packaging and Labeling:
Examine the packaging and labeling of the perfume closely. Genuine perfumes have high-quality packaging with clear and crisp printing. Look for any signs of poor craftsmanship, misspellings, or inconsistencies in the logo, brand name, or product information. Additionally, check for the presence of a barcode, batch code, or serial number, as these are often absent in counterfeit products.
7. Scent and Performance:
Authentic perfumes have a distinct scent and performance that counterfeit products often fail to replicate. If possible, visit a retail store and sample the perfume you intend to purchase online. This will help you familiarize yourself with the fragrance, making it easier to identify any discrepancies when buying online.
Conclusion:
As online shopping continues to grow, it is essential to be vigilant when purchasing perfumes on eBay. By arming yourself with knowledge, conducting thorough research, and paying attention to the details, you can significantly reduce the risk of falling victim to fake perfumes. Remember, the key to spotting counterfeit perfumes lies in being informed and cautious throughout the purchasing process.
Table of Contents
1. Introduction: Understanding the Importance of Spotting Fake Perfume on eBay
Spotting fake perfume on eBay is crucial to ensure that you are getting an authentic product and not wasting your money on a counterfeit item. With the rise of online marketplaces, it has become easier for sellers to deceive buyers with fake perfumes that may look identical to the original ones. In this section, we will discuss the importance of being able to identify fake perfumes and provide you with some useful tips to help you make informed purchases on eBay.
First and foremost, it is essential to understand the risks associated with buying fake perfumes. Counterfeit fragrances not only lack the quality and longevity of genuine ones but can also pose health hazards. Fake perfumes often contain harmful ingredients that can cause skin irritations, allergies, or even more severe reactions. By being able to spot fake perfumes, you can protect yourself from these potential risks and ensure that you are investing in a safe and genuine product.
To help you in your quest for authentic perfumes on eBay, here are some key indicators to look out for:
1. Packaging: Pay close attention to the packaging of the perfume. Genuine perfumes usually come in high-quality boxes with precise printing, embossing, and holographic labels. Look for any signs of poor craftsmanship, misspellings, or blurry logos, as these can be red flags indicating a fake product.
2. Price: If a deal seems too good to be true, it probably is. Authentic perfumes are typically priced at a certain range, and significantly lower prices may indicate a counterfeit item. Research the average market price for the perfume you are interested in and be cautious of suspiciously low-priced listings.
3. Seller Reputation: Check the seller's feedback and ratings on eBay. A reputable seller with positive reviews is more likely to sell genuine products. Take the time to read through previous buyers' experiences and look for any complaints regarding fake perfumes.
4. Smell and Longevity: If possible, try to sample the perfume before making a purchase. Authentic perfumes have a distinct and long-lasting scent, while counterfeit ones may have a weak or synthetic smell that fades quickly. If you are unable to test the fragrance beforehand, consider reaching out to the seller for more information or requesting additional photos.
By being vigilant and following these guidelines, you can increase your chances of spotting fake perfumes on eBay and make informed decisions when purchasing fragrances online. Remember, it's always better to be safe than sorry when it comes to investing in authentic and high-quality products.
2. Packaging and Branding: Key Indicators of Authenticity
When it comes to determining the authenticity of a product, packaging and branding play a crucial role. By carefully examining these key indicators, consumers can make informed decisions and avoid falling victim to counterfeit goods. Here are some important factors to consider:
1. Packaging:
Quality materials: Authentic products often come in packaging made from high-quality materials that feel sturdy and durable.
Attention to detail: Look for precise and well-executed printing, including clear logos, product information, and barcodes.
Seals and holograms: Many genuine products feature security seals or holograms that are difficult to replicate, providing an additional layer of protection against counterfeits.
Consistency: Authentic brands maintain consistent packaging designs across their product range, ensuring a cohesive and recognizable look.
2. Branding:
Logo accuracy: Pay close attention to the brand's logo, as counterfeit products often have slight variations or poor quality imitations.
Official trademarks: Genuine products display official trademarks and certifications, which can be verified through official brand websites or databases.
Product information: Authentic brands provide detailed and accurate information about their products, including ingredients, manufacturing dates, and contact information.
Authorized retailers: Purchase products from authorized retailers or the brand's official website to minimize the risk of purchasing counterfeit goods.
3. Fragrance Quality: Evaluating Scent and Longevity
In the realm of fragrance, evaluating scent and longevity are crucial factors in determining the quality of a perfume or cologne. When assessing the scent, it is important to consider the various notes that make up the fragrance. These notes can be categorized into top, middle, and base notes, each contributing to the overall aroma. Top notes are the initial scents that are detected upon application and tend to be light and refreshing. Middle notes emerge once the top notes evaporate and provide the core character of the fragrance. Base notes are the foundation of the scent and are responsible for its longevity.
Furthermore, evaluating the longevity of a fragrance is essential in determining its quality. Longevity refers to how long the scent lingers on the skin after application. Factors such as the concentration of fragrance oils, the quality of ingredients used, and the individual's body chemistry can influence the longevity of a fragrance. A high-quality perfume or cologne should have a well-balanced composition that ensures the scent lasts for an extended period without becoming overpowering.
Key Points:
Assessing fragrance quality involves evaluating scent and longevity.
Scent evaluation includes considering top, middle, and base notes.
Longevity is determined by factors like concentration, ingredients, and body chemistry.
4. Seller Reputation and Authenticity Guarantees: Ensuring Trustworthy Transactions
When it comes to online transactions, trust is crucial. That's why our platform prioritizes seller reputation and authenticity guarantees to ensure trustworthy transactions for our users. Here's how we go the extra mile to build trust:
Seller Reputation:
We have a comprehensive rating system that allows buyers to provide feedback and rate their experience with sellers. This helps other users make informed decisions based on the seller's track record.
Our platform also displays the number of successful transactions a seller has completed, giving buyers an indication of their reliability.
We encourage sellers to maintain a high level of customer satisfaction by providing excellent products and services. This motivates them to prioritize customer needs and build a positive reputation.
Authenticity Guarantees:
We take counterfeit products seriously and have strict policies in place to prevent their sale on our platform. Our team actively monitors listings to ensure that only authentic products are being sold.
Buyers can also look for our "Verified Authentic" badge, which indicates that the product has been thoroughly checked and verified by our experts.
In case a buyer receives a counterfeit item, we have a hassle-free return and refund process to protect their interests and maintain their trust in our platform.
5. Price Discrepancies and Deals: Identifying Suspiciously Low or High Prices
When shopping online, it's important to be aware of price discrepancies and deals that seem too good to be true. Suspiciously low prices can often be a red flag for counterfeit or fake products, while unusually high prices may indicate overpricing or scams. Here are some tips to help you identify and avoid falling victim to these price discrepancies:
Research the average price: Before making a purchase, take the time to research the average price of the product you're interested in. This will give you a baseline to compare prices and identify any significant deviations.
Compare prices across different platforms: Check prices on multiple websites or platforms to ensure consistency. If you come across a significantly lower or higher price compared to other reputable sources, proceed with caution.
Read customer reviews: Customer reviews can provide valuable insights into the legitimacy of a product and its price. If there are numerous complaints about counterfeit items or scams related to a particular seller or listing, it's best to steer clear.
Remember, while deals and discounts can be enticing, it's essential to exercise caution when encountering suspiciously low or high prices. By following these tips and using your judgment, you can protect yourself from potential scams and ensure a safe online shopping experience.
6. Additional Tips and Resources: Expert Advice for Safely Purchasing Perfume Online
When it comes to safely purchasing perfume online, there are a few expert tips and resources that can help ensure a smooth and secure experience. Here are some additional tips to keep in mind:
1. Research the Seller:
Before making a purchase, it's important to thoroughly research the seller. Look for reputable online retailers or official brand websites that have a track record of selling authentic perfumes. Check customer reviews and ratings to get an idea of their reliability and customer satisfaction.
2. Verify Authenticity:
Counterfeit perfumes are unfortunately common in the online market. To ensure you're purchasing a genuine product, look for sellers who provide detailed product descriptions, including information about the fragrance notes, packaging, and batch codes. Additionally, check if the seller offers a return policy or guarantees the authenticity of their products.
3. Secure Payment Options:
When making a purchase, opt for secure payment options such as credit cards or trusted online payment platforms. Avoid sharing sensitive information, such as your social security number or bank account details, unless you're confident in the website's security measures.
4. Check Shipping and Return Policies:
Before finalizing your purchase, carefully review the seller's shipping and return policies. Ensure that they offer reliable shipping methods and provide a clear process for returns or exchanges in case you're not satisfied with the product.
5. Consider Sample Sizes or Tester Bottles:
If you're unsure about a particular perfume, consider purchasing sample sizes or tester bottles before committing to a full-sized bottle. This allows you to test the fragrance and determine if it suits your preferences before making a larger investment.
6. Stay Updated on Fragrance Trends:
Lastly, staying informed about the latest fragrance trends and releases can help you make informed purchasing decisions. Follow perfume blogs, social media accounts of reputable perfume influencers, and subscribe to newsletters from fragrance brands to stay in the loop.
Q&A
Q: How To Spot Fake Perfume On eBay?
A: Spotting fake perfume on eBay can be a challenging task, but with the right knowledge and careful observation, you can increase your chances of identifying authentic products. Here is a comprehensive Q&A guide to help you navigate through the process:
Q: How can I determine if a perfume listed on eBay is genuine or fake?
A: There are several indicators that can help you determine the authenticity of a perfume on eBay. These include examining the packaging, checking the seller's reputation, verifying the batch code, and analyzing the fragrance itself.
Q: What should I look for in the packaging?
A: Pay close attention to the packaging details. Genuine perfumes often have high-quality packaging materials, including sturdy boxes, precise printing, and clear labels. Look for any signs of poor craftsmanship, misspelled words, or faded colors, as these can be red flags for counterfeit products.
Q: How can I check the seller's reputation?
A: Before making a purchase, it's essential to review the seller's feedback and ratings. Look for sellers with a high positive feedback percentage and a substantial number of transactions. Additionally, read through the comments left by previous buyers to see if there are any complaints regarding counterfeit products.
Q: What is a batch code, and how can it help determine authenticity?
A: A batch code is a series of numbers or letters printed on the perfume packaging. It indicates the production date and batch number of the fragrance. By researching the batch code online, you can verify its authenticity and ensure that it matches the brand's manufacturing standards.
Q: How can I analyze the fragrance itself?
A: Authentic perfumes have a distinct scent that is consistent with the brand's reputation. If possible, compare the fragrance to a sample of the same perfume from a reputable retailer. Pay attention to any noticeable differences in the scent, longevity, or color. Counterfeit perfumes may have a weaker or altered fragrance.
Q: Are there any additional precautions I should take when buying perfume on eBay?
A: Absolutely. It's advisable to only purchase from reputable sellers with a proven track record of selling genuine products. Avoid listings that offer unusually low prices, as they are often an indication of counterfeit items. Furthermore, read the product description carefully, and if any crucial information is missing or seems suspicious, contact the seller for clarification before making a purchase.
Remember, while these tips can help you identify potential counterfeit perfumes on eBay, it's always best to exercise caution and trust your instincts. If you have any doubts about a listing, it's better to err on the side of caution and explore other options.
In conclusion, being able to spot fake perfume on eBay is crucial to ensure that you are purchasing genuine products and not falling victim to counterfeit items. By following the guidelines and tips provided in this article, you can become a more informed buyer and protect yourself from scams. Remember to carefully examine the packaging, labels, and overall presentation of the perfume. Pay attention to any discrepancies or inconsistencies that may indicate a fake product. Additionally, consider the seller's reputation, customer reviews, and return policy before making a purchase. By staying vigilant and informed, you can confidently navigate the world of online perfume shopping and make authentic purchases on eBay. Happy shopping!